Created and developed in the 1990's by a team of European plastic surgeons, dermatologists and engineers, the concept of Skin Needling has a strong medical heritage derived from ancient acupuncture techniques combined with modern Mesotherapy practice and cosmetic / plastics medicine.
It involves using a skin-inject ™ device with 192 surgical micro-needles between 0.15mm to 2.0mm long depending on which device is used that roll over the skin to create pin-point punctures into the epidermis. It helps to stimulate new collagen growth, improve the skin texture and reduce the appearance of scarring and fine to moderate lines.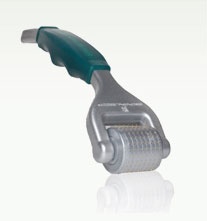 skin-inject ™ is manufactured in Europe and has been certified with the European conformity mark ensuring that design and manufacturing process reaches the strictest of international safety and health regulations. skin-inject's exclusive design having met the highest of Australia and international standards.
What can Skin Needling treat
Ageing Skin:

Restores firmness and tightness to flaccid skin
Thickens the epidermis and enhances dermal compactness
Helps to smooth away wrinkles, lines, folds and crow's feet
Improves skin texture
Improves large pores in facial skin

Scarring:

Reduces the appearance of indented acne scars
Improves scars caused by chicken pox
Helps to fill old surgical scars

Hyperpigmentation:

Helps to lighten pigmentation marks

Enhanced Skin care penetration:

Dramatically increases absorption of active ingredients
Dramatically increases the efficacy of topical skincare products

Stretch Marks & Cellulite:

Improves the appearance of stretch marks from pregnancy or weight loss
Improves the appearance of cellulite
Skin Needling can treat sensitive areas that other treatments have to avoid, such as below the eyes, the neck and the back of hands.
The product is out of stock.
For further information please
TEXT/CALL 614 29 828 185

Recommended product
DermaRoller System
There are 4 sizes of skin-inject™ devices available, each with a different needle measurement, purpose and method of use.
Check with clinical skin therapist for the best choice of clinical device and supporting serum for your skin condition.
skin-inject Roller Needling Treatment Plan
Prior to having Skin Needling, we recommend that the skin is primed with active ingredients (Vitamins C and A) for at least two weeks prior to the treatment. This is to maximise treatment outcomes, assist in speeding the healing time and reduces the risk of post peel complications.

A specific skin care regime will be recommended to you at your initial consultation. To build up skin tolerance to skin needling, allow 3 day intervals between treatments for a minimum of 2 weeks. When your skin becomes adjusted to needling, gradually increase the frequency of use to a 3 times a week.

Do not use more than once a day. If used more than once a day the skin-inject roller may cause more inflammation than is aimed for and even cause damage.

Each device will last up to 6 months before a replacement is required.
How to use skin-inject
The aim of the procedure is to create the maximum number of micropunctures per area of skin being rolled. It should take you approximately 3 to 5 minutes to roll your whole face. Only ever use as much pressure as you feel comfortable applying.
Apply the roller gently over the area to be treated, we recommend to roll 4 times over each area in each direction, vertically, horizontally, and in both diagonals, lifting the roller between passes to avoid rolling the same areas. A simple method is to divide your face into 6 areas - left and right forehead, left and right nose/eye/cheek/temple and left and right lower cheek/mouth/chin areas.

Dermal damage you produced induces the release of growth factors that stimulate the production of new collagen and elastin. Because the epidermis is left intact, the healing period is rapid. The skin does not risk permanent structural damage, sun sensitivity, skin colour loss or hyper-pigmentation.

Treatment effects are cumulative and will usually be seen within 6-8 weeks.

We recommend you rinse your skin-inject roller under hot tap water after use and allow to air dry. Do not use cleaning solutions, detergents, bleaches or any other solutions (including sterilising solutions) other than hot tap water as they may damage the stainless steel needles. For hygiene purposes, we recommend your skin-inject roller be used by only one person.

Store your rollers in their original packaging.
Melbourne Facial Beauty
Home Skin Needling Summary.
Cleanse the skin with non-active cleansing gel, rinse thoroughly and pat dry
Apply a serum with your major skin concern as listed in table below
Roll skin-inject over treated areas, apply as much pressure as your comfortable with
When finished the treatment apply a soothing moisturiser to the treated areas
To get ultimate result Melbourne facials recommends combining advanced skin treatments and in clinic skin needling or needle dermabrasion.
Always discuss your options with our experienced staff.
Condition
Product
Cost
Acne
Repairing serum
from $70
Pigmentation
Brightening serum
Fine Lines
Vitamin C - dull, devitalised skin

Anti-oxidant serum - anti-aging
For more details check skin needling serums
To buy home use derma roller click here

After-Care for Skin Needling
There are a few simple steps for after care that you will need to follow:
Avoid the use of moisturisers or lotions containing active ingredients such as retinol, glycolic acids, perfumes and colours. Use the moisturiser supplied to you for 3-7 days or until your skin is no longer sensitive. Thereafter, continue with your usual moisturisers unless advised otherwise.
Keep sun exposure to a minimum as your skin will be a little more sensitive to the sun. Wear a hat and sunscreen daily.
Use mineral foundation, "breathable" camouflage or healing concealer if required
Do not rub or pick the skin as this may lead to a scar.
If you have any concerns or questions please call the office