Skin Needling/ Facial Needling treats light scaring, fine to deep wrinkles. It is derived from ancient acupuncture techniques and mesotherapy. As the needles are rolled over the skin, tiny punctures are created within the epidermis and dermis that encourage the skin's own natural healing response stimulating the production of collagen and elastin and the release of growth factors.
One of the most exciting advantages of this treatment is that it can safely be performed on both darker and lighter skin types. Plus there is minimal downtime and discomfort and an almost immediate outcome. Treatment only done on the area that needs attention.
What is skin needling with Pen?
E- Pen uses multiple needles that vertically pierce the skin. This enhances rejuvenation results and is far safer for the client because there is much less epidermal damage.
The automatic vibrating function of the Derma Pen increases the effectiveness of treatment by increasing absorption of products, whilst reducing pain & discomfort.
Derma Pen is just as effective as ablative treatments such as Fraxel, IPL, Laser Resurfacing, and Chemical Peels. The most amazing benefit is that Derma Pen's pricing is a fraction of the leading alternatives
What can Skin Needling treats
Skin tightening, lifting and rejuvenation by stimulate the production of collagen
Acne scars & and chicken pock scars
Wound healing
Improves wrinkles and fine lines, reduce crows feet and lip lines, reduce forehead lines and frown lines
Minimize pore size
Improves stretch marks
Treats Alopecia hair restoration
Assist in the absorption of cosmetic products
Reduce the appearance of stretch marks
Contra-indications or Why Skin Needling may not be suitable for you
Roaccutane use in the last 6 months
Dermatitis or infection in the area to be treated
Pregnancy
Keloid scars
Abnormal wound healing
How many sessions do I need?
Each skin responds differently and most skins will need multiple treatments at 8-12 week intervals, dependent on the initial condition being treated, and the desired outcome. This time frame allows us to see the maximum new collagen deposition and to assess the success of the treatment.
Please note: A very small number of skins will have a minimal response to needling
What is the recovery time for Needle Dermabrasion and skin needling?
Following the treatment the area treated will be red, swollen, and irritated. The redness lasts three to 5 days for needle dermabrasion and only 24-48 hours for skin needling. After 24 hours you can wear mineral makeup to cover the area.
What are the advantages of using pen over skin roller?
No cross infection - disposable needles
Speed - faster than manual MTS
Shorter treatment times
Adjustable needle depth
Less pain
No side effect
Derma Pen - Our Method
Derma Roller - Old Method

Minimized epidermal damage means less pain and bleeding
Easy to guide around all facial contours
Because of vertical delivery, needles easily penetrate scar tissue without risk of bending

Painful with a lot of bleeding due to epidermal damage
Difficult to operate in small or curved areas
Difficult to insert needles into scar tissue - needles can be bent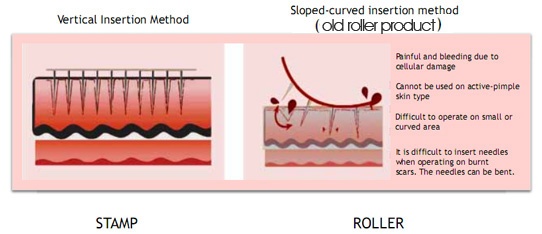 Melbourne Facial Beauty
Skin Needling Treatment Plan
The skin should be assessed prior to the first treatment. The use of skin treatments and/or products both pre- and post-treatment will enhance the client's results dramatically.

Greater benefits can be received if Pre-Treatment is included in Skin Needling procedure.

Several options are available:
Microdermabrasion
Peels – AHA's or Glycolic
IPL Rejuvenation
Retin A facial
The skin needling treatment consist of the following stages:
face cleansing
anesthetic ointment application to treatment area for 30minutes prior
actual skin needling treatment
application of post-treatment solution to treatment area
followed up by a cooling mask
Melbourne Facial Beauty
Skin Needling Treatment Summary
To get ultimate result Melbourne facials recommends combining advanced skin treatments and Home skin needling.
Always discuss your options with our experienced staff.
What to do to ensure you get the most out of your skin needling treatments?
Make sure you are on a good home care program that consists of vitamin A serum, vitamin C powder, and potent antioxidants. We also highly recommend using EGF serum
Use a homecare roller weekly to ensure your are getting the most out of your products and also preventing congestion of the skin that can lead to breakouts and dull look of the skin
After-Care for Skin Needling
There are a few simple steps for after care that you will need to follow:
Avoid the use of moisturisers or lotions containing active ingredients such as retinol, glycolic acids, perfumes and colours. Use the moisturiser supplied to you for 3-7 days or until your skin is no longer sensitive. Thereafter, continue with your usual moisturisers unless advised otherwise.
Keep sun exposure to a minimum as your skin will be a little more sensitive to the sun. Wear a hat and sunscreen daily.
Use mineral foundation, "breathable" foundation or healing camouflage if required
Do not rub or pick the skin as this may lead to a scar.
If you have any concerns or questions please call the office