Skeyndor Skin Care - Spanish cosmetic brand uses biotechnological, marine and vegetal origin raw materials. The name Skeyndor means "golden skin" in Spanish. Skeyndor was established in Barcelona in 1966 and now is distributed worldwide.

It is known for development of a unique concept: Scientific Cosmetics

Skeyndor combines the goodness of nature with the wonders of science in the formulation of its more than 200 products which range from professional salon and spa to home care.

The Skeyndor range is designed to repair damaged skin, balance problem skin and encourage the skins natural defences to work at optimum levels throughout a person's life. These products will also support pre and post operative care to ensure the maximum benefits from these treatments.
Skeyndor top philosophy - "searching of excellence"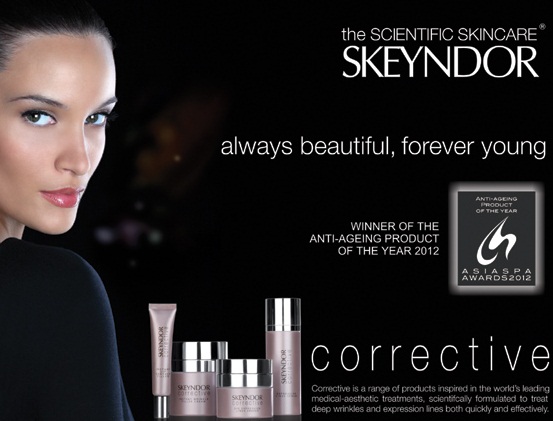 SKEYNDOR products
All products listed on this page are available for purchase though telephone and email order and buy Skeyndor products online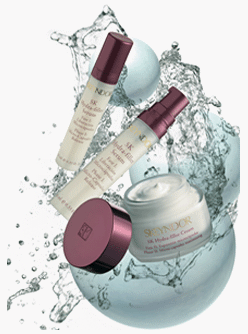 Other Skeyndor Lines
Essential Line – based on botanical ingredients, the Essential Line is excellent for improving and maintaining a normal skin with minor irregularities.
Ecolia Line for Sensitive Skins – this is considered to be one of the first products on the market formulated with hypo-allergenic ingredients and protectors to adequately respond to fragile and sensitive skins. It restores the skins ecological balance which helps it to evolve and become a strong skin.
Natural Defence Line – based on one of the latest discoveries in anti-aging treatments, the immune defence of the skin, extra reactives and essential compounds, the Natural Defence Line is among the highest technology in cosmetics.
Fruit Acids Line – formulated with alpha-hydroxy-acids (AHAs) which have been proven to have excellent results. They are capable decreasing the frequency of blemishes in oily and acne prone skin, increasing hydration and fine lines in dry skin, and clearing dark spots caused by sun exposure or age.
Platinum Line – alternative to a cosmetic face lift. Anti-aging treatment for flaccid and aged skins due to hormonal dysfunctions. Platinum provides energy to nourish the skin and helps to achieve a renewing and visible lifting result.
Cosmetic Injections- Like – a synergic mixture with two "Cosmetic Injections-like" active products which are effective in controlling muscle contractions, relaxing facial muscles and softening expression lines. Suitable for all skin types.
SK Retinol (Vitamin A) Line – protect your skin from cutaneous photoaging and feed it with anti-wrinkles skin care rich in pure A vitamin. The skin can be tighter, firmer and plumper. Both professional beauty treatments and homecare are available in the Retinol Line.
Skin Oxygen Line – an important skin care line for all types of skin that are aged and wrinkled. Vitamin A, E and oxygen are essential active ingredients which oxygenate, revitalise and fight free-radical damage.
Crystal White Line – s bleaching line contains lightening products which have proven their effectiveness in protecting and lightening the skin, causing dark skin spots and hyperpigmentation to fade. With continuous use, great results on age, sun or pregnancy spots.
Antioxidant Line with Q10 – anti-free radical line to repair the epidermic damage caused by prolonged exposure to external agents such as free-radicals and UV rays. The combination of Vitamin A, C, E, Q10, green tea extract and sunblock help to prevent the appearance of wrinkles, decrease skin irritation and provide new vital energy to the skin.
Temp Spa Line – a range to balance your body, tonify musculature and soften skin while you enjoy a special aroma.
Svelte Contour (anti-cellulite) Line – dedicated to treating, toning and firming cellulite, reducing the appearance of stretch marks and revitalising tired legs. A scientific answer for body beauty treatments.
Sun Care Line – Protect your skin from noxious effects of solar radiation. Skeyndor has a wide range of sun products, based on triple action filters and screens without clogging or irritating the skin. Enriched with moisturisers, anti-wrinkle agents and anti-oxidants to impede photo-aging.
Skeyndor For men - Efficient with cutaneous problems. Products done with vegetal extracts as Indian Chestnut and Ceilan Cinnamon, with proved relaxing and softening effects. A line that naturally answers to basic needs of male skin and its shaving constant need.