Indio Skin Care - Australian owned international leading skincare brand.
Indio is always sourcing premium ingredients which allow us the ability to develop the newest and most innovative products to ensure that only the best results are achieved.
To purchase these specialised products or for further information please TEXT/CALL 614 29 828 185
Indio products formulated with active, natural and high strength ingredients such as anti-oxidants, fruit acids, collagen, vitamin A & vitamin C that assist in protecting the skin from the environment while assisting in reducing signs of premature ageing.
"the next generation in cosmeceuticals"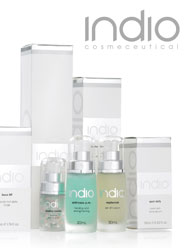 The Indio skincare range has not undergone any animal testing
The Indio range rapidly improve dull, lifeless skin, even out skin tone, texture & pigment, improve micro-circulation, reduce the signs of premature ageing, as well as calm, soothe and hydrate.
Melbourne Facial
FAVOURITE INDIO products
All Products listed on this page are available for purchase though telephone and email order.
Cleanse and Tone - Clean and nourish your skin with added Vitamin C. Removes makeup with ease. Improve skin tone and texture without over-drying. Follow with Indio Tonic for best results
Serums - Calms, soothes, and strengthens skin. Perfect to apply underneath your moisturiser to relax your skin all day
Hydrators - Nourish and hydrate skin with powerful combination of plant extracts infused into a topical skin vitamin
Exfoliation - Restore your skin conditions with potent concentrations of alpha and beta hydroxy acids and retinol
Indio Gold Anti-ageing - Give your skin a lift and turn back the clock. Filled with phyto nutrients. Fantastic product for all skins especially dehydrated and sensitive
Problematic skin - Perfect for oily, problem, or even combination skin types. Keeping skin in shape to fight future breakouts
Other Indio Products
Eye area – hydrates and lifts the eye area
Masks – Great for all skin types. Soothe and hydrate skin. Leave the skin feeling fresh and firm
Sunscreen - sun un-tinted SPF-30