Pigmentation Treatment Summary
Determining the right procedure for you depends on the specific goals of therapy, origin of the problem and how long its been present, downtime and your budget.
Treatments
How many/
often
Maintenance
DownTime
Cost
Special Price
IPL
2-6 sessions
every 2-4 weeks
If and only when needed
20min-2days
$250ea
$199
PDT
2-3 sessions
fortnightly
If and only when needed
5-7 days, avoid sunlight 24hrs post
$300ea
Medi-Peels
1-4 sessions
every 2-4 weeks
If and only when needed
None to 3 wks for deep peels
$199ea
$179
Skeyndor MesoBright
2-6 sessions
weekly
If and only when needed
none
$199ea
$179
Skin Needling
2-3 sessions 6 weeks apart
6-12 month
24-48 hrs
$399 ea
$300
Clinical Facials
Monthly
Monthly
none
from $125 ea
30 min - $99
Facial Extraction
Facial for Man
Monthly
Monthly
none
$159 ea
$129
Teens Acne Facial
3-4 sessions
with 1 session a month
when needed
none
$159ea
$129
Home Care
Appropriate cleanser,
day & night products needed

Enquiry about Medik8 for hyper-pigmentation, rosacea and acne

$165/4mnth
Home Skin Needling
3 times a week
3 to 5 minutes
Swap roller every 6 months
none
$105 plus serums for better results
How Pigmentation defined?
Pigmented lesions (sometimes referred to as age spots or sun spots) on skin are caused by a proliferation of melanocytes in the skin. Melanocytes contain the cells that manufacture melanin, the dark pigment.
Pigmentation can be caused by various things.
Hormonal, especially on upper lip or the butterfly pigmentation which is darkening of skin over nose and cheeks area, usually post pregnancy and also referred to as pregnancy mask.
After burns or post traumatic pigmentation, which can be caused by mechanical (dent left after an injury by object for example) or chemical (such as chemical burns) trauma to skin.
Post acne spots, which sit quite deep in the skin and can sometimes take years to get rid of or for some skins acne scarring can even be permanent (this is particularly true for darker skins)
One of the most common causes of pigmentation is sun damage to your skin. Sun spots, also called age spots usually appear after 35-40 and cause a lot of headache to many people. Usually this is kind of a payback for the abuse that we give our skin in our teens and twenties. Skin remembers this and the stored sun exposure comes out to the surface some years later. Believe it or not, the darker this particular type of pigmentation is the easier it is to get rid of it, particularly using a light-based device such as Laser or IPL skin rejuvenation.
Skin blemishes (sometimes called broken capillaries or enlarged capillaries) which happen due to abnormal blood vessels located directly under your skin's surface are called vascular lesions.

Rosacea is believed to be hereditary, but can worsen with exposure to various triggers including extreme temperatures, sunlight, stress and certain medications and foods. Rosacea usually appears in phases:
Pre-rosacea - simple tendency to flush or blush easily. Possible progression to a persistent redness in the central portion of your face, particularly your nose. This redness results from the dilation of blood vessels close to skin's surface. This phase may sometimes be referred to as pre-rosacea.
Vascular rosacea - worsening of signs and symptoms. When small blood vessels on your nose and cheeks swell and become visible (telangiectasia). Skin may also become more sensitive and this can be accompanied by oily skin and dandruff.
Inflammatory rosacea - when small, red bumps or pustules may appear and persist, spreading across your nose, cheeks, forehead and chin.
Moles
Moles normally appear during the first 20 years of life, but sometimes can also appear later in life. Moles are not stable. They can grow and go trough changes of maturation. Moles may darken with exposure to sun, birth control pills, and hormonal changes such as pregnancy.
Spots
It is estimated that the majority of the people suffer from some sort of the facial spots or pigmentation due to sun-damage. One of the major side effects of spending time in the sun are spots, sun-spots, age-spots, freckles and larger patches of uneven pigmentation that can really mar otherwise beautiful skin.
Melbourne Facials Pigmentation Treatment Options
A variety of technologies are utilized, often in combination, to treat the many forms of this condition. Facial spider veins or telengiectasias are also common and easily treated with a variety of laser technologies. Intense Pulsed light is the most common and the most effective of technologies utilised.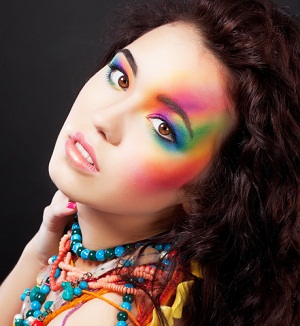 Treatment may include light or electro therapy, dermal fillers or peels, depending on the nature of the condition.
Other Treatments
Antibiotics provide some benefit, but most rosacea sufferers relied upon covering their skin with layers of heavy makeup
Medications - to fight sebum and bacteria
Light treatments to reduce bacteria in the skin and improve healing
NOTE: No sun exposure 4-6wks before and after IPL treatments. No sun exposure post peels for 2 weeks. Extreme caution needed to avoid sunlight (in fact all light) for 24hrs post PDT, after 24hrs IPL's sun restrictions apply. High SPF sun block and sun avoidance is suggested after all treatments
Prevent Pigmentation Advice
There are a few simple techniques that may help prevent and control vascular lesions
A number of factors can aggravate the condition by increasing blood flow to the surface of your skin. Some of these include:

Hot foods or beverages>
Spicy foods
Alcohol
Temperature extremes
Sunlight
Stress, anger or embarrassment
Strenuous exercise
Hot baths, saunas
Corticosteroids
Drugs that dilate blood vessels, including some blood pressure medications

Try to stay away from most over-the-counter skin care products contain ingredients such as acids, alcohol, sulphates and other irritants, that may actually worsen rosacea. Use professional only products that suit your skin type and can alleviate the condition