Inspired by aesthetic medical treatments, Skeyndor Corrective slows muscle contraction, increases the volume of the skin and fills the voids of deep wrinkles.

It also improves the architecture and cellular communication within the skin, stimulating the process of tissue regeneration which rejuvenates the skin and normalises its appearance.

Its composition is capable of overcoming the natural barrier of the skin and combines active ingredients to re-plump internal tissue, fill expression lines along with neuro-inhibiting agents and peptides to lift and firm.

Clinical trials show results using products at home for one month :
Wrinkle efficacy observed in 90% of volunteers
Decrease by 33% to 52% in total area of wrinkles
Reduction of 31% to 45% in the number of wrinkles
Decrease by 29% up to 49% in the total length of wrinkles
Reduction of 28% up to 43% in the depth of wrinkes
Skeyndor Corrective is used in Melbourne Facials for Virtual MesoTherapy. The multi-layer process similar to Meso Filler with key elements of the concentrated actives include
Spherical Hyaluronic Acid
Lavandula extract
"Botuline-like" inhibitor
Skin Lifting Peptides - aka "Viper venom"
Internal Tissue Re-densifiers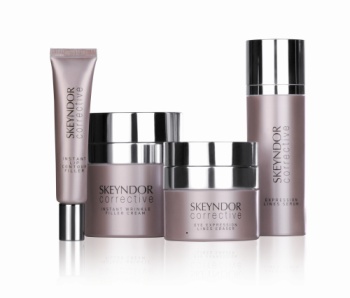 Skeyndor Corrective Treatment Plans
Results are evident after just one session. General recommendation is 4 to 6 sessions depending on the condition of your skin. Maintenance sessions are recommended once every 12 months.
Other Conditions to treat
Deep wrinkles filling effect
Stimulates the tissue regeneration
Skeyndor Corrective Summary
Skeyndor Corrective treatment formulated with powerful lifting, plumping and skin anti-ageing benefits.
| | | | |
| --- | --- | --- | --- |
| Condition | Schedule | Cost | Special Price |
| Wrinkles | 4-6 sessions; weekly | $250ea | |
| Pigmentation | 2-4 session; weekly | $250ea | |